Chloe's First Week
9th Apr 2008 - 13th Apr 2008
We were discharged from hospital three days after the birth, and delighted to be bringing Chloe home to our almost finished house. The advice is to take it easy at home for the first few days but with plumbers, electricians, builders and painters still busy finishing off the extension we were out and about every day. On the Friday the wooden floor was sealed and varnished and as the fumes were quite potent we packed up our bags one more time and spent one last night at Gill and Craig's. Peter and Susie came over for lunch at the cafe on Tamarama Beach while Chloe slept peacefully in her little bassinet. That night Gill cooked dinner then Peter, Tim and Gill demolished several bottles of wine. Chloe was very well behaved and hopefully didn't disturb Gill's sleep too much! On Saturday Chloe came to support Daddy playing volleyball at Maroubra beach, which she enjoyed even though she was mostly asleep. That night Steph, Adam and Luciana popped in to say hello then Tim went out to Olympic Park for the Swans match which Chloe and I watched at home with AJ and Flipper. Sunday was spent entertaining visitors. Emsie was up from Wagga Wagga for the weekend and her and Nicole very kindly brought around breakfast, then Martin and Charlie popped in for a cuddle with Chloe.
11th Apr 2008 - Chloe's First Day at the Beach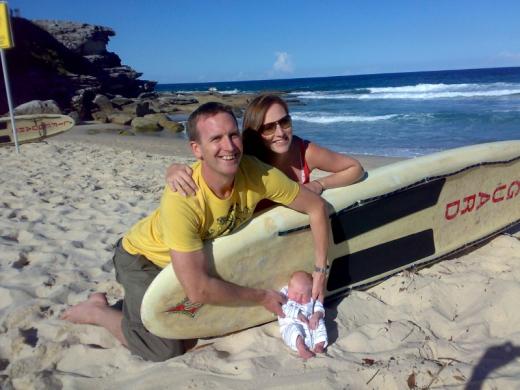 Toes in the sand for the first time at Tamarama.
12th Apr 2008 - With Daddy at Maroubra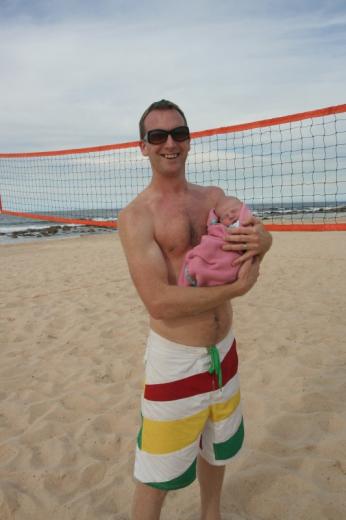 Cheering him on from the sidelines
13th Apr 2008 - Aunty Nicole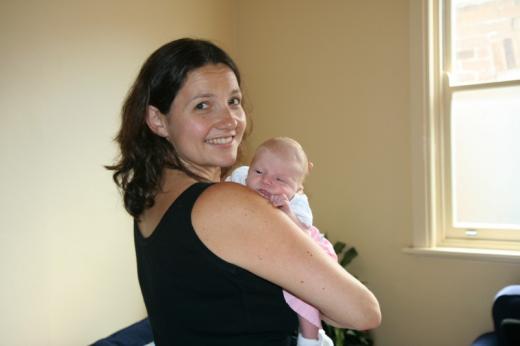 13th Apr 2008 - Cuddles with Charlotte and Martin